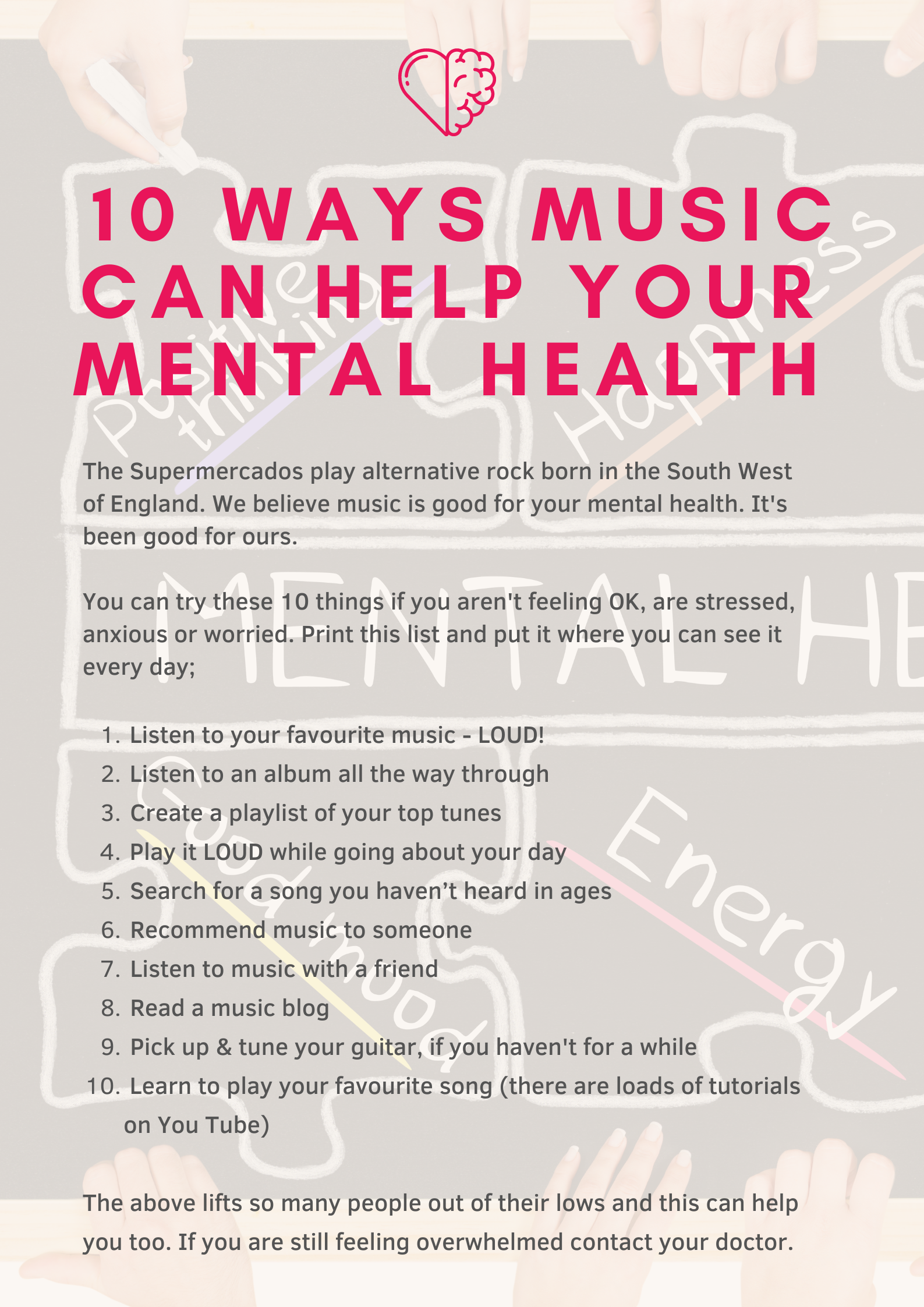 We believe that music is good for your mental health. It's been good for ours. 
You can try these 10 things if you aren't feeling OK, are stressed, anxious or worried. Print the list in the image at the top of this blog and put it where you can see it every day. 
If you're looking for an easy way to transform your mood, look no further than music. 
Studies have shown that music can improve your mood and fend off the blues. It can also improve blood flow in ways similar to statins, lower your levels of stress-related hormones like cortisol and ease pain. 
How can music do so much good? Music seems to "selectively activate" neurochemical systems and brain structures associated with positive mood, emotion regulation, attention and memory in ways that promote beneficial changes, says Kim Innes, a professor of epidemiology at West Virginia University's School of Public Health.
In the meantime, this blogs fleshes out each of these 10 reasons a little more, hope you enjoy!   
1. Listen to your favourite music - LOUD! 
Music is a collection of vibrational events which can induce beneficial bodily and psychological reactions. Loud music, may have benefits for us: particularly in terms of social integration and an enhanced sense of wellbeing and fun. 
Simply put, when playing loud music, the details become easier to pick up. Usually, being able to hear more details and picking up different sounds means the music sounds better. After all, that is how the artist created it – all little details included. 
Loud music relieves stress. Found in the inner ear is the sacculus (pronounced as sack-you-less) that has direct connections to pleasure centres in the brain. It releases endorphins when stimulated by loud music, so listening to loud music is essentially self-medicating. 
The sacculus particularly likes low frequencies (bass, basically) above 90 decibels, according to the research of Dr. Neil Todd. Funnily enough, at one point in time it was believed that the sacculus had no real purpose. Little did they know that it's responsible for the joy we find in music! 
Dive deeper into this article to find out more
2. Listen to an album all the way through 
Listening to a whole album is about listening to what an artist has to say. It's like sitting in front of someone and asking them to tell you about themselves. 
It's about getting to know someone or a story. 
You dedicate one hour of your time and jump into someone else world, with respect and an open heart. And sometimes you might find out that that world is also your world and that somehow you understand it. Music is universal like that. Shared experiences, togetherness, living in a moment that escapes the remorseless grind and fake reality that we all get peddled. 
It can show you that you don't have to suffer in silence, that you feel things we all feel? It can show you that you don't need people to make you happy, that you can use music and lyrics to help get you through. 
Listening to an album in its entirety can transport you to another world, unknown places or familiar ones. They are far more representative of an artist than just listening to their biggest hit. 
Anyone that knows me will know how much I love Motorhead. But, there is so much of their music that is far better than the Ace of Spades. Just listen to the Overkill album and let the double bass drums of the title song absolutely blow your mind like it did to mine when I first heard it. Then go on to "Stay Clean" or "I'll Be Your Sister" to really experience a hugely inspirational band at the top of their game. 
As with people, the same goes for albums: you cannot judge them just from their hit song, otherwise, you won't know them in-depth. Find out more here
3. Create a playlist of your top tunes 
Love em or hate em, the streaming platforms have become a hugely popular way of consuming music. Spotify is like a huge jukebox with just about all the music in the world at your fingertips, whenever you want to dive in. 
Forget for a second the notoriously bad deal that Spotify is for musicians like us and consider how they can be repurposed into therapies for depression, anxiety, or bipolar spectrum. Given the convenience and low cost of these platforms for consumers at the point of use, developing music streaming therapies could offer new opportunities for patients, their caregivers and health-care professionals. 
I've read lots about how giving care home residents a playlist of their favourite songs can give them a mood boost or put them in a happy place. 
Having seen my own Mum's journey with frontal lobe dementia, I know only too well how powerful the jazz and classical music that her and my Dad used to listen to together has been in keeping her in a "happy place". 
Moods and emotions play a huge part in her day-to-day wellbeing. So, 30 seconds of Jools Holland, Simon & Garfunkel or John Coltrane sees her whole mood lift, gets her on her feet and remembering good times with my Dad from years ago. 
And its so easy to set up a Spotify playlist and pull in music from the millions of songs they have from every genre imaginable, helping my Mum to rediscover music she hasn't heard in years and to bring back memories from the past that she can still recall with total clarity. This most definitely helps in a huge way, when she struggles to stay in our reality. 
4. Play it LOUD while going about your day 
Cleaning, I hate cleaning. And DIY. But especially painting. Its so fucking boring. However, there are the times that they, along with other really mundane everyday tasks, just need to be done. 
My personal favourite is Paul Oakenfold live at Cream in Liverpool for painting. There's some thing hypnotic about dance music that puts you into a sort of trance where you are dancing rather than painting a boring white wall. And dancing is fun, even if painting the lounge isn't. 
The other thing is that if you set up a long enough playlist, you can crack on with painting, or folding the laundry, or putting that flatpack together, without having to stop when the CD does. 
You know those moments when you're driving, and as soon as you are close to your destination or looking for a parking spot, you turn the music down? Exactly. It's like you cannot focus on other things when listening to loud music. This is (partially) true! 
Loud music takes over the brain: it overwhelms the other senses in a way that is similar to alcohol or drugs. It becomes all-consuming. Sometimes, blocking out the world and just enjoying the emotions of the music is a much-needed experience.
5. Search for a song you haven't heard in ages 
There is nothing guaranteed to take you back in time than hearing a song that you might not have heard in ages.
Its like a time machine, taking you back to sights, smells, people, sensations, places and situations. Hearing a song from your teenage years, which are often the best and the worst times of your life, makes you feel young again. Take that youthful feeling and bounce around your kitchen to it, you'll be amazed how a song from the past can make you feel full of beans again!   
According to the BBC; "the hippocampus and the frontal cortex are two large areas in the brain associated with memory and they take in a great deal of information every minute. Retrieving it is not always easy. It doesn't simply come when you ask it to. Music helps because it provides a rhythm and rhyme and sometimes alliteration which helps to unlock that information with cues. It is the structure of the song that helps us to remember it, as well as the melody and the images the words provoke." Find out more here
6. Recommend music to someone 
If you've really enjoyed a song or an album. If it has made the hairs on the back of your neck stand up. If it has made you want to pick up an instrument, or start a band, or if it has given you a lunchtime escape, then what could be better than letting someone else share that? 
When I worked at a marketing agency, we all brought new music that we had bought into work. And we put it all into a shared I-tunes playlist which was on in the background all day. 
There are few shared experiences better than seeing the glint of joy in someone's eyes listening to music that you have introduced them to. Or seeing them discover it for themselves. 
We all learn from the people you meet, so perhaps music is one of the more positive things that you can pick up from other people? 
7. Listen to music with a friend 
I don't know about anyone else, but I've discovered most of the music I love through friends. As a teenager, when you went to someone else's house, their CD collection was an endless source of fascination to me. It would be one of the first things I made a beeline for. 
I feel so nostalgic about going through my best friend Ross's CDs. I was a student, but he was in full time work. So, he could afford to buy music in a way that I couldn't. So we would spend endless hours going through his CD collection and marvelling at the lyrics on the record or cd sleeve. 
I discovered so many cool rock bands through Ross and it blew my mind reading the lyrics from Manic Street Preachers albums, as they were totally different to what I thought James Dean Bradfield was singing. The books, philosophy and politics within their songs led me on to discover so many great books and ideas, which I maybe wouldn't have if I hadn't had Ross to let me listen (and record on tape) music I just wouldn't have otherwise. 
And then we used to go and see all these bands live, which felt like walking into a different world, where you met like-minded people, who opened you up to even more cool music! 
8. Read a music blog 
Reading about the music you like or musicians that inspire you deepens your understanding of them, why they wrote certain songs, how an album came about or what they represent. It can be a real eye-opener to find out what a song is actually about or to find out what they listen to. You never know, it might just. 
If you think you are alone, then you might benefit greatly to find out you are not. 
Repeat after me "You are not alone. You are not fucking alone. You are not alone." 
Just read about Bruce Springsteen's struggles with depression or Ginger Wildheart's battles with depression to show yourself exactly that! 
This is what this blog of ours is all about. There's far more to music than the business side of things and trying to "Make It". Its all about the journey for us to understand why people do music and what it does for us. Which is why it is so universal! 
9. Pick up & tune your guitar, if you haven't for a while 
There may be a guitar that you haven't picked up for a while, just sitting all lonely in the corner of your lounge. So, instead of just leaving it to gather dust, pick it up and give it a quick tune-up. Then, you just won't be able to help yourself have a little jam, which is a great distraction from everything going on in your life. Sometimes, a little distraction is all that you need to give your brain a break from all the thinking and to be able to come back to look at thing just a little bit more rationally and objectively. 
To take things just that little bit further, you could try an open tuning. An open tuning can open up a whole new layout on your guitar and give you a whole new perspective on what your fingers can do. We often get stuck in a rut as guitar players and jamming around with open tunings can give you a whole new vocabulary to use. 
Why not a classic Keith Richards G, D, G, B, D tuning? Then you'll be able to play "Satisfaction" or "Jumping Jack Flash" or "Honky Tonk Women with just one finger. Simply remove the fat E string and tune the guitar G, D, G, B, D. Then you're ready to start rocking ...Satisfying! Find out much more here
10. Learn to play your favourite song (there are loads of tutorials on You Tube) 
It's so much fun to teach yourself a song that you really like. Not only does it teach your fingers and muscle memory something new, it gives you such a wonderful insight into how your favourite song is put together. And when you really know how to play a song, your appreciation of it is that much more and there are few better things than being able to jam to your favourite song with some other musicians. When you are playing music, you just don't think about anything else and every time we rehearse, I feel so chilled out afterwards. 
We hope you have enjoyed this blog and given you lots of ways that music can improve your mood to explore. However, all I can tell you is how well it has worked for me. 
The 10 reasons above can lift so many people out of their lows and this can help you too. But, mental health struggles can be pretty intense. If you are still feeling overwhelmed, contact your doctor as music is just one of many, many tools available to you. 
So make the most out of everything available and remember music is one of the only things in life that will always be there, when you need it! 
If you would like to support us you can buy the "Clean Up in Aisle 9" Ep, leave a tip in our tip jar or buy our DIY Merch. Find out more in the Supermercados' Store.