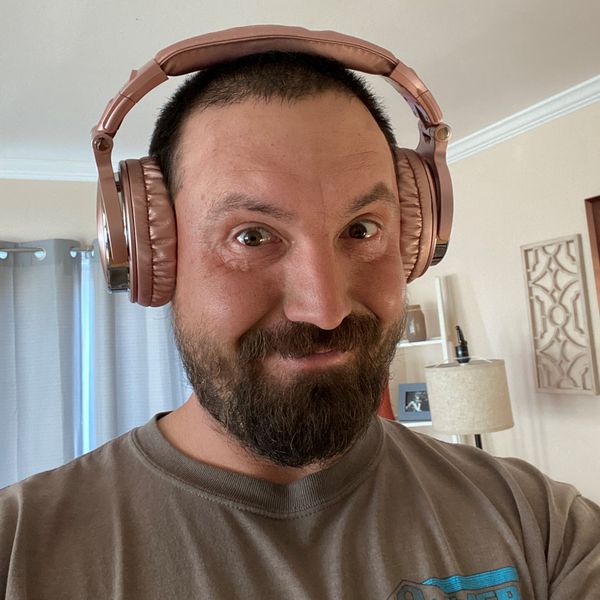 Trick question, they are the same thing! 
Tools to use. Tools that complement each other. 
And you can never have enough tools.
Or bass guitars. 
To be clear, I'm not saying that music should ever be used as a replacement for any form of counselling or therapy. I'm certainly not encouraging anyone to stop any form of therapy or counselling if they are receiving it. 
It's not an "either – or". 
In fact, if you have a chance to get help with any form of therapy or counselling, grab it with both hands.   
What I do know is that anxiety is a fucker. You need all the tools you can get your hands on to fight it. 
It makes you unable to do things you can normally do with ease. On the 2 occasions I've had counselling, both times it ended just as I was making progress. Most recently when the service I was using was closed down during lockdown. 
But I made progress and counselling opened a door for me. 
Helped me understand what I need to work on. 
However, I had to find other ways to help myself, to take myself to the next level. Build on what counselling gave me. Get better. 
Having a loving family definitely helped me, for which I feel truly blessed. 
Getting back into music is another tool that I continue to use every day to help me manage my anxiety. 
Because when I play music, I go to a different place. I'm not overthinking, just being in the moment. 
In fact, I don't really think about anything at all when I'm playing music. 
I just go to a different place. And when I "return" reality just seems easier. Calmer. More satisfied and at peace. More than any words I know can adequately explain.
Better. 
And the great news is that music is universal. It is accessible to everyone. In whatever form or in whatever genre that moves you. Instruments don't have to cost the earth. Neither does recording and releasing music. 
In my journey to understand why, I read a lot of stuff. 
A very quick Google search for "music as a form of therapy" throws up so many articles, 669 million to be precise. This one on the NAMM Foundation's blog gives so many detailed insights into the positive benefits of music. 
It's really interesting and I'd encourage you to read it; 
The NAMM Foundation advances active participation in music making by supporting scientific research, philanthropic giving and public service programs. 
Their blog breaks down the facts of how learning and playing music for adults directly benefits them in four key areas; 
Cognitive 
Social 
Health 
Educational 
Given that my journey is all about using music to keep my anxiety at bay, the part of the NAMM Blog that resonated personally the most with me is; 
"A review of 23 studies covering almost 1,500 patients found that listening to music reduced heart rate, blood pressure and anxiety in heart disease patients (Bradt & Dileo, "Music for stress and anxiety reduction in coronary heart disease patients," PubMed.Gov, 2009)." 
Wow! 
Guest blogs 
In my journey to understand why music is helping me, I just set up a blog on our website. 
https://thesupermercados.com/blog 
This contains some recent Facebook posts related to my journey through music.   
I thought recently that I'd add some guest blogs too. Examples of other musicians that music has helped get better. 
This blog that one of the musicians we have on the Ultimate Emerging Alt Rock You Tube channel sent me just blew me away, so I wanted to share it with you. With his permission. 
Introducing Michael Lanthier
Michael Lanthier hails from the United States. He's been a hobbyist musician for most of his life, but has started recording and releasing original music in the last few months. 
Michael served in the US army for ten years and now suffers from severe PTSD. He's been sober for 6 months and music has become the most important part of his therapy and recovery. 
He sent me this powerful piece about how music has literally set him free. 
Here is Michael's story, hope it inspires you as much as it did me!   
Maybe music can set you free too? 
Peace 
Dave Supermercado xxx 
Jimi Hendrix is my therapist, a blog by Michael Lanthier 
Every time I pick up a guitar, despite whatever my intentions are in that moment, it's become an inevitability. 
I play the first few measures of either Little Wing or Voodoo Child (slight return). 
At this point in my life, I suppose it's a reminder of what was, why I play, the feel of the strings being the same today as every gig I played as a teenager. 
A lifetime of escape. 
On the 16th of November 2020, I found myself in a psychiatric facility on an involuntary hold. 
This was my third stay in such a place since 2007. 
12 hours earlier, my girlfriend, with no other option, finally called the police to see if they could talk me out of pulling the trigger to the pistol I had pressed against the side of my head.
I had been drunk for the better part of four days and the pain made me forget what I had to live for. 
In those moments which, I've had many (suicide attempts), I feel entitled, that I've earned the right to end the pain. 
Every childhood beating, the humiliating sexual abuse I endured for almost a decade, the sounds of my dad cheating on my mother in our home, changing schools every few months, being raised in a cult, that gives me the right. 
In 2004, I joined the US Army. 
Short answer, I needed to get away and feed my family, I was married and had my first child the year before.
By the time I was medically retired in 2014 I had pulled decapitated bodies out of sewage treatment tanks, carried pieces of my friend in a rucksack, cleaned up a pile of mutilated infants, and basically witnessed the most unimaginable, abhorrent atrocities human beings are capable of, over and over again. 
Almost every day from my retirement until my latest hospitalization I've been drunk. 
Not had a few beers drunk, vodka until I can't speak or stand drunk. Trying to drown the horrors I've endured and witnessed throughout my childhood and military service.  
I forgot the answer that was always there, sitting alone in my room as a child with my guitar, hopelessly trying to follow the tab to Electric Ladyland, yet completely disconnected from all of the anguish and suffering outside the door.  
Eventually at 15, as I played lead guitar for an adult rock band, music wasn't just an escape, I gained the confidence to finally stand up to my abusers and I was never touched again. 
After a few days home from the hospital, I began to remember.  
I picked up the Stratocaster I had first played in 1993. The first guitar that I ever owned. The guitar that I wanted to sound like Stevie Ray Vaughan and Eric Johnson when I played it.  
A couple of weeks later I was shopping for studio software and watching endless videos about mixing, mastering, distribution, promotion, etc. 
I was getting home from work and started picking up my guitar every night instead of a bottle. 
Today, when I got home, I remembered. 
I picked up my guitar and played the opening measures of Little Wing.  
Today, I am free. 
Free from my past, my pain, my addictions, my guilt, my anxiety, my depression.  
Today I remember what it's like to free myself with music.  
Today, I don't want to kill myself.  
Thanks Jimi... 
Lots of love 
Michael xxx
Listen to Michael's music or connect with him via the links below