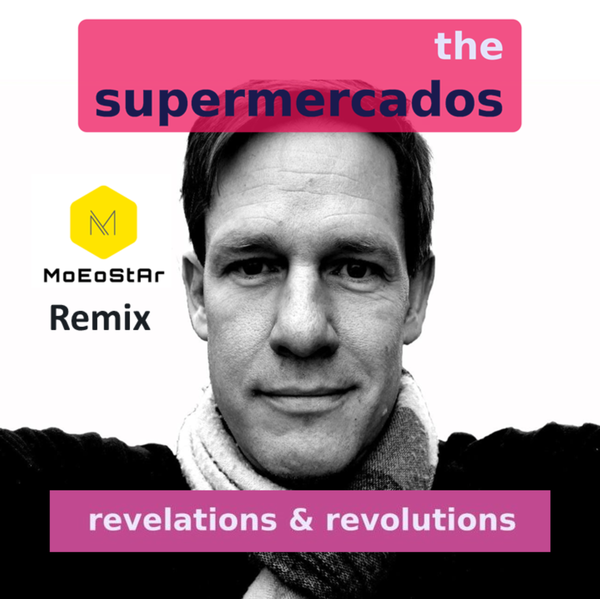 The MoEoStAr House Remix of the Supermercados' "Revelations & Revolutions" came out 19th July 2021 on Supermercado Records. 
In the first week, we got added to a Spotify Editorial Playlist and that gave us 1,800 streams. A nice feeling! 
This moment has been a year in the making. 
Not this song, or the remix. Just this moment. 
The start of another journey. 
Between Lockdowns last year, when the rehearsal room was closed and we couldn't play live, we thought we'd try to record a handful of songs in Dave's lounge. 
We hadn't tried recording The Supermercados live as a band before and we needed to be able to record 8 inputs; 4 for live drums, 1 for vocals, 1 for bass, 1 for keys and one for guitars. 
A while back, we equipped ourselves with a MacBook and a Focusrite 18i8 sound card with 8 inputs and Logic Pro for doing demos. 
This gave us 8 simultaneous inputs at the same time, with each assigned its own track in Logic. 
Meant we could record the band live. 
Recording live drums is always a bit tricky, but we found this great guide by Musician on a Mission into the Glyn Johns' 4 mic recording method, which was used to record the Who and Led Zeppelin;
It worked, we got really high-quality recordings and had a lot of fun, recording 6 songs in the process. Apart from poor Henry cooking to death in the conservatory to isolate his vocals! 
The cost of the kit was about half the price of 2 days in a recording studio, so it was cheaper too. But we already had it and we'll be able to use it for more recordings as well as it being a really chilled weekend with just the 4 of us. 
Keeps us lean and flexible. 
Then it turned out Tom's really good at the producing, mixing and mastering side of things. Dave and Tom had a kind of contest to see who came up with the best mix, but Tom's just blew all our heads off! 
So, we set up our own Label – Supermercado Records - and self-released our debut Double AA Side single "Record" and "Revelations & Revolutions" in December 2020. And recording it cost us nothing other than our time, the kit we already had. 
These 2 songs launched us to the world and set out our stall. We got an amazing response are now on our 7th release, with much, much more music to come. 
It felt a bit weird to release music and not play it live to people though. 
So, we also thought we'd offer the WAVs for our songs to anyone who wanted to do a remix. And we'd release the best ones. 
Gave us something else to do. 
There was a flurry and a few responses, so we did our own remixes and called them "Chien Andalou", setting up a new separate artist on our Label to release on Spotify.
We'd put out a couple of Chien Andalou remixes and then we heard from MoEoEsTaR, a house music producer from Norway. 
MoEoStAr, also known as Mattias, produces house music, deep house and remixes of artists from other genres. He's done stuff with South London's metro-kitsch jazz band the Pelican Assembly and reflective Italian songwriter Joseph Lynn. 
He was interested in doing a House Remix of "Revelations & Revolutions", so we agreed to let him have the WAVs. 
Especially with the prospect of taking us into an entirely different genre…. 
And we loved his remix. Such a nice experience to hear what someone else hears in your music. 
MoEoStAr's remix takes the upbeat alternative rock of The Supermercados' "Revelations & Revolutions", the joy of discovering old music & bittersweet love lost, completely transforming it into a quirky, minimal and laid-back house music track. 
It is a real earworm, with each listen bringing out something new, sounding as fresh as the first time - each time you hear it. 
So, we decided to collaboratively release the House Remix, agree the licensing and here it is! 
Look where music takes you! And if you can crack the DIY approach, then even better as you can release unlimited music, when you want, how you want it. 
Enjoy!!!!!
You can support us by streaming our music 
Or by Buying our music, digital or CD; 
Or you can buy our merch or donate to help us record and release more music through our Tip Jar
Peace 
Dave Supermercado xxx