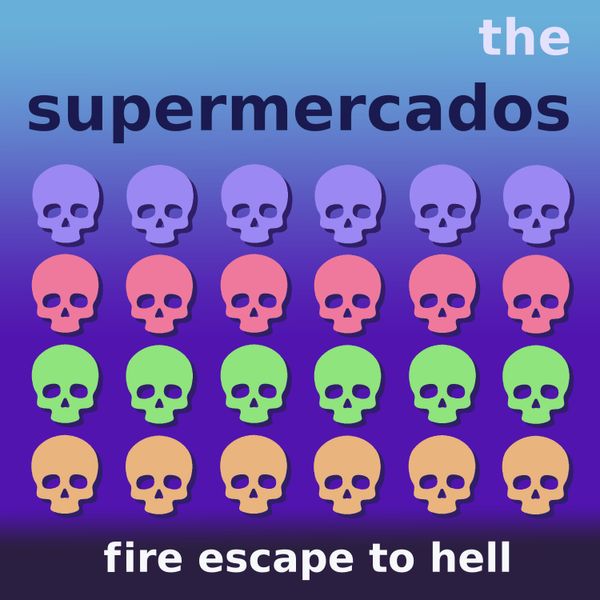 Well, we've done it anyway.
So there. 
The Supermercados release their 4th single "Fire Escape to Hell" today Wednesday August 18th 2021. 
Sonically heavier than previous releases, "Fire Escape to Hell" is last of the run of songs recorded between lockdowns in September 2020. It sounds like it's right on the edge of coherence, just like everyone's liberty and mental health. 
The heavier sound comes from the band listening to Iggy & the Stooges, Chubby & the Gang and Motorhead mixed with leaving angst and isolation for imminent freedom. A fat rock sound and a trashy, punky edge - like being at a carnival in the middle of the night at a festival.   
Lyrically, it touches on disappointment in open mic nights, using the fictional Ann-Marie pub as a metaphor. Hoping to sing songs and exorcise demons, only to be faced with everyone sounding the same and sameness being celebrated. And seeing your ex with their new boyfriend, who's trying to impress them with a gastropub. Giving way to feelings that they "Promoted the wrong person". And being left with "I sing in the Anne-Marie, Singing my sweet nothings. Sincerity, serenity, Singing in the Anne-Marie." 
"Fire Escape to Hell" continues to evolve The Supermercado's lyrical theme of creating something beautiful out of adversity. The importance of using music to improve your mental health and wellbeing. How music can help to process feelings and understand experiences. Universal hopes and fears, feelings we all experience. How music and lyrics can help get you through, but it is down to you to make things ok in your life. 
If you would like to support us you can buy the "Clean Up in Aisle 9" Ep, leave a tip in our tip jar or buy our Merch. Find out more in the Supermercados' Store. CheckOut here