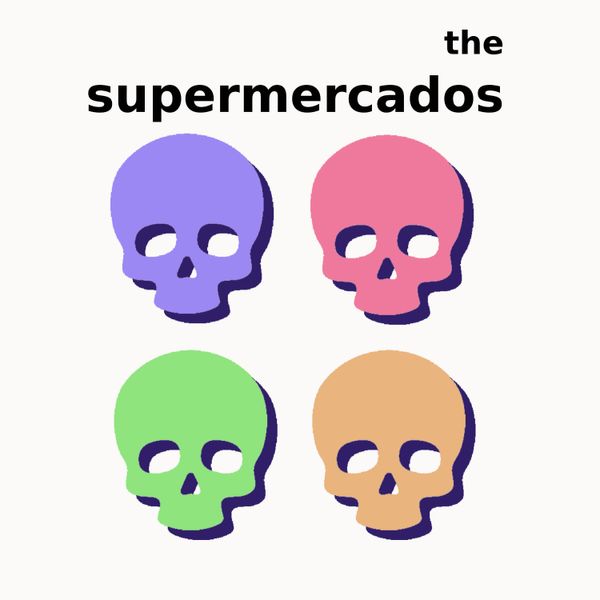 Stop clowning around!!! Get back in your box. Stay in your genre. 
The amount of times we've heard that! 
That you can only play or release music in a certain genre. If you stray into other genres that you'll alienate the people that like you. That people in other genres will hate you. 
The "industry" sure tries to pigeonhole you. "What genre is this song in?" says Distrokid when you upload your songs to Spotify, Apple Music etc. 
But you don't feel that you fit any of the genres. "Are you Alt Rock or Garage Rock" says the radio station when you pitch to them. "Are you classic rock or indie rock" says the festival or gig promoter. 
As soon as you start a band, the first things people seem to ask are; "What do you sound like?", "What Genre do you belong to?", "What style of music do you do?", "Who do you sound like?" 
This usually results in blank looks from us. We also have absolutely no idea what we sound like because we are in the music we make. Because we didn't start a band to be pigeonholed. 
It's also really hard to make comparisons with something you've created to something that you haven't created. We didn't start a band to be a carbon copy of what's gone before. I don't think many musicians do, but you can be sure that the question comes up again and again. 
We really feel that "Nobody puts baby in the corner" – yes I did just quote Dirty Dancing! 
We deliberately set up the The Supermercados to be totally DIY and entirely self-sufficient. Taking the name of something mundane - like Supermarkets - and changing it into something that sounds exciting – like Supermercados, which is just the Spanish for Supermarket. 
We aren't signed to a label or chasing a label. We set up and release through Supermercado Records - our own label. We manage our own publishing. We don't have a manager. 
We don't use recording studios. We record everything we do in Dave's lounge. Anyone can do this, there are hundreds of articles that tell you exactly how to do it and what kit you need. 
We don't use an outside producer or a mastering engineer. We mix, produce, master and release everything ourselves. 
This means no-one tells us what to do or has a say in which songs we release, when we release them or makes us write anything that's not "us". No-one forces us to follow a formula. Or forces us to pigeonhole to a genre. 
This means we are able to put out whatever music we feel proud of. Whenever we want. 
We even managed to launch ourselves as a band during lockdown and get tens of thousands of streams, get played hundreds of time on the radio. 
Even though we couldn't do gigs and still haven't. (But we will, watch this space) 
As a band, we are all into different styles of music from most genres, so we purposefully bring these influences to our music. 
And Music is a personal experience for everyone. Everybody I know listens to lots of different types of music. People go to see dance music, rock music, jazz, funk, soul or whatever is on at a festival. (Remember those??) 
We deliberately write music and lyrics that hopefully mean different things to different people. This is because our music means different things to each of us. 
This music comes from both adversity and joy, a desire to escape the mundane. A desire to understand the world better. And the songs keep flowing (We have 20 new ones to record). 
We put a band together hoping that we would sound like something different to each person we talk to. We hope each person that hears us will hear something else in our music. 
We make note of every comment, every time we get a get one from someone that's listened to us. Some of them include the following, but you can see all the comments we've saved here; https://thesupermercados.com/bio 
• "Very interesting. Reminds me a lot of Moby's experimental stuff, with undertones of Joy Division/New Order. " 
• "Reminded me of EMF for some reason" 
• "Reminds me so much of Mott The Hoople pre Dudes era. Like it a lot." 
• "It kind of reminds me of early "Cure" I like it, takes me back to my punk days, some of the best & worst of my life!" 
• "Reminds me of Aphex Twin ...." 
• "Great song kinda like Blur/ Supergrass?" 
• "It's like if the Clash and the Cars had a baby then sent the baby to summer camp when it became a teenager" 
• "Good groove. Reminds me a bit of early Chilli Peppers" 
• "It sounds good, reminds a little about Rage Against the Machine!" 
• "Beck, meets Pink Floyd" 
This shows us that we're on the right track with what we set out to do. That everyone hears something different in our music and we're delighted about that! 
Pffffffff to all you pigeonholers! 
This is what led us to actively offer the separate parts to our released songs for other people to do their own versions and remixes. 
To purposefully try and "see" – well "hear" - what other people hear in our songs. Check out Chien Andalou's remixes as a good example. It gets a bit weird, a bit wonky and a bit strange - but that's great!!!! Chien Andalou 
So many people said that this is a big risk. "What if someone rips you off?" "What if someone gets a hit with your music?". "What if someone uses your song for a remix competition?" Well, you get publicity, that's what you get. 
So, we decided to take a risk, even though so many people told us not to. You can easily protect yourself anyway and we control our publishing, so there's very little risk actually. 
And it's a fun thing to do. A weird thing to hear new life breathed into your music by someone else. 
And that's the whole point of music. Music a shared experience. A shared vibration. A shared sentiment. A shared reaction to adversity. It stops you feeling alone. It gets you through. It is magic in its purest form. It brings people together. 
Music doesn't set up walls and boxes. We've really enjoyed meeting lots of new and interesting people through that interweb thingy. It got us through lockdown. 
With all this in mind, we have collaboratively released a House Remix of "Revelations & Revelations" by MoEoStAr . 
He is a Norweigan producer of house music, deep house and remixes of artists from – SHOCK, HORROR - other genres. Previous remixes include tracks by South London's metro-kitsch jazz band the Pelican Assembly and reflective Italian songwriter Joseph Lynn. 
We'd love to hear from you about what you think about all of this!!! I'm sure we're not alone in hating this whole pigeonhole thing. It looks like that there are a lot of people out there that hear different things in our songs. 
We'd love to hear from you what you hear in our music, how it makes you feel and what you think about while your listening. 
Please join us on our journey, we are not about the destination. On our quest to kill the pigeonhole. We guarantee it won't be boring! 
Just remember "Nobody puts baby in the corner"
You can support us by Streaming Our Music 
Or by Buying our Music. From Us, Digital or CD; 
Or you can Buy our Merch or donate to Help us Record and Release MORE Music through our Tip Jar 
Peace
Dave Supermercado xxx