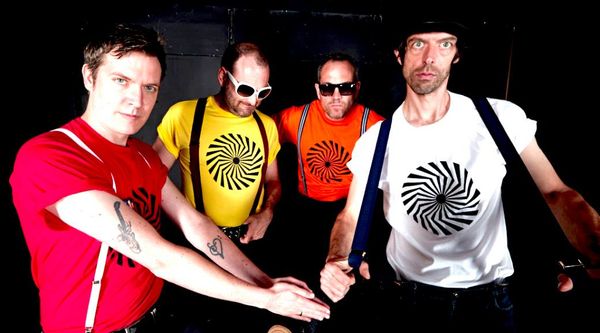 Yes, if we combine efforts and help each other out. 
Friends helping friends? 
Can we build a supportive community? 
Organically? 
Stick it to "the man", even? 
Got to be better than paying for Facebook ads or music promo "services" that guarantee no specific results, don't help you reach actual people and could get you cancelled. 
Hasn't it? 
The music "business" is changing. The explosion in DIY music uploads during the pandemic means that the power is shifting back to artists. 
Which is long overdue. 
So, reliance on the record companies, who don't invest in artists any more, or drop 80% of their signings eventually, could be a thing of the past. 
In fact, a recent article on Rolling Stone magazine's website says that DIY music completely dwarfs the major labels. And Midia Research are predicting an even bigger DIY artist generation in the future.
Looks like there has never been a better time for us all to get together and occupy an exciting new and emerging DIY space in the new future "industry".  Revelations & Revolutions are afoot, baby, and it looks like the future could well belong to the DIY music community. 
If we come together and make it happen….. 
So, we've given huge exposure to the bands and solo artists on our You Tube Channel in the short 3 months we've been live.
We've now reached 12,700 plays and 289 subscribers - that's 289 hours of videos served by artists watched around the world, from the Ukraine to the USA!!!! 
For free. 
And we've reinforced it with a tie in to UK radio station @PhonicFM, who find new music on our channel they haven't heard before to put on their shows. Expanding audiences, shining a spotlight in the darkness. This encouragement keeps us all going. 
Also for free. 
I had a dream last night that all the artists and subscribers on the channel reached out to their local radio station and set up a tie-in, like we have, getting worldwide radio coverage for us all. 
Scary thing is how possible this is. 
And as well as uploading videos for other bands and solo artists, we also create playlists for each artist that link back to their own You Tube channels. Hopefully boosting their plays.   
Because we get further when friends help friends, when we get together and combine efforts. 
And audiences. 
Which hopefully crosses over into more plays on all of our You Tube channels, Spotify, Apple and Amazon music streaming, more things to get real engagement with on Facebook, Instagram and Twitter and visitors to our websites. 
Find out more about what we're about in our Blog
This week's featured video is "Eye of the Triangle" from London's Helmholtz Resonators.  It features videos of people's eyes and sounds like being at a Carnival at a good Festival in the middle of the night! 
Last week's Featured Video was "Send it Down the River" from New Jersey's Steve Kirchuk who gained a mighty 55 plays.
New videos this week are from Muzychni Nepodobstvo with "Viyna" (War) and Done Without's "Experimental Collapse of Community", both from the Ukraine. 
Also "Dance Diva" from Chicago's William Lovitt, "Endless Tide" from Surrey's Flood, "Fair Enough" by New Jersey's Michael Lanthier and "The Eye of the Triangle" from London's Helmholtz Resonators 
And this Saturday, who knows which artists from the channel Jason Maddocks will play on UK rock radio on Phonic FM 
Do you know yet, Jason Maddocks 
Why don't we all get together, combine our efforts, reach and talents and be part of the new music "industry". 
The DIY part. 
The one where we're in control, not the record execs. How about the makers of music get the lion's share? 
If you would like to support our community you can buy the "Clean Up in Aisle 9" Ep, add to our tip jar or grab Merch. 
Find out more in the The Supermercados Store. 
Or support any of the artists on the channel that you might like in the same way. 
Be good to be part of something good, eh?