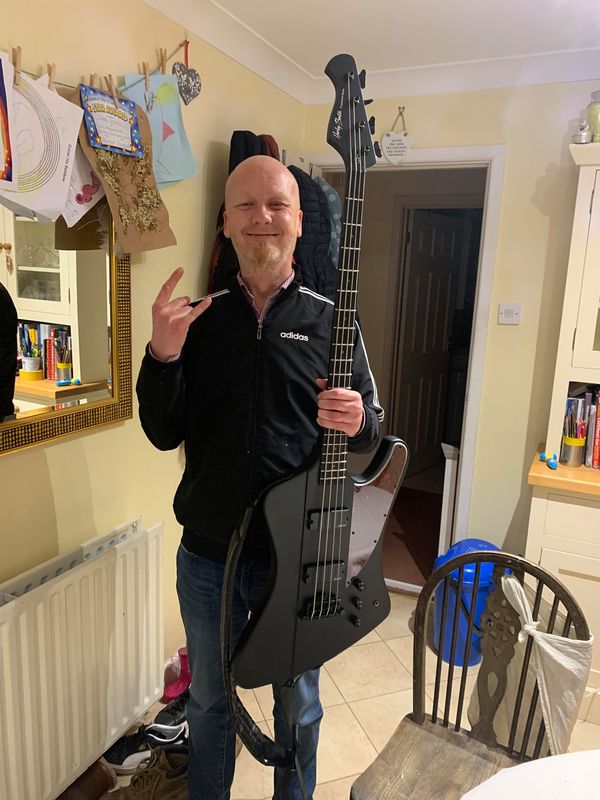 You'll never get anywhere with music, right? 
That's what I was told so many times by so many people. So, I went to business school to "Make it" 
I could do music whenever I had spare time, right? 
Except it didn't work like that. The spare time I had was taken up with resting and preparing for work. It just sapped my creativity and took away any desire to do music. 
I saw my Dad work his whole life only to be thrown on the scrap heap as soon as he got sick. So, I thought, how long until that happens to me? Then I got made redundant through no fault of mine and my mental health unravelled. 
I decided I was going to try something else. Something more important and rewarding. 
That brought me back to music and I set myself up with a basic music studio and started writing songs. I found that creating made me feel good. That I had something to show for it. Not left with nothing. And I would "Make It" 
Then I started a band. Soon, it became the thing that made me feel better than anything else. 
Gave me something to show for my efforts. That stopped the negative thoughts and made me feel invincible. 
Then the people started coming to our shows and we got more shows. I met bands I'd looked up to and got the chance to see the real them. Sometimes good, sometimes bad. 
There seemed to be magic in the air and we got offered Glastonbury, without filling out a single form or making a single phone call. 
Unfortunately, it all imploded not long after because I was still at the point of putting too much pressure on myself to "Make It" 
I decided to focus on getting back to my career. Which was ok for a few years, then it wasn't. My mental health wasn't, my bank balance wasn't and I felt empty. My Mum got sick and I found myself in a state of anxiety and couldn't function properly. 
I decided that I was going to organise my life around music and work to live, not live to work. And I would stop trying to "Make It". Because while you play music you don't think about anything. And when you've been lost in music the anxiety becomes manageable, not crushing. 
Shortly after I'd decided this, the next thing I knew, I'd been introduced to Henry via a mutual friend, reconnected with Tom and met Matt. 
We got together for a jam. 
Then we started started writing songs and the music just seemed to come pouring out. Suddenly, we had formed The Supermercados together. Then Covid hit. We managed to get 6 songs recorded during the break between lockdowns. Then we released them to see what might happen and suddenly we've had tens of thousands of streams and been on the radio hundreds of times. 
Because we had the band to get us through lockdown, we now have our own record label, do all own design work, write, record, mix, master and release all our own music. And to cap it all off, we started playing live again. HAd almost forgotten what a buzz that is! 
And in the process of just enjoying music, little by little, the anxiety started fading away. 
Today, I'm feeling the best I have in years. I have something fulfilling to work on and I'm in a place where I can just focus on music.
There is still a heap of adversity coming at me, but this time, the music just helps me to be able to cope with it all. 
So, who says you'll never get anywhere with music? 
You get somewhere every time creating or playing music makes you feel good. It gives you respite from the stuff. You get somewhere every time you pick up an instrument. Every time you write a song that helps you understand yourself or your world a little better. Every time you rehearse. Every time you play a show, no matter how many people come. Every time you share ideas and every time you play together. Every time someone tells you they like what you've created. And it helped get us through lockdown and isolation. 
And still people say you'll never get anywhere with music? 
I can tell you that my mental health is better than it ever was and I'm optimistic about the future. I'm not trying to "Make it" because I feel like I "Make it" every time I do anything to do with music. Because we're self-contained, we've already made it anyway, as the songs just seem to keep coming and we're all set up to keep releasing music. 
I'm excited about the journey we'll be going on to try and understand the world we live in and where we fit into it through music. One of the really interesting things is talking to other musicians to find out why the "Do" music. 
So, come along for the ride and join us. We really can't wait to share the songs that come out of these times. 
And you never know, you might just get the music bug too and it might just help you through the problems the world throws at you. 
If you want to hear the music music that I made with our band and which helped me get better, then Click on the album cover below. You can buy an actual CD or Choose the Price you pay for a Download, or just have a listen.
And I'll throw in a free trolley dolly with every order for a CD, so you wont have to deal with the anxiety of trying to find a pound coin to unlock a trolley at the supermarket ever again! 
Every little helps! 
Dave Supermercado xxx